Nikolai Vasilyevich Gogol 
3/7/2023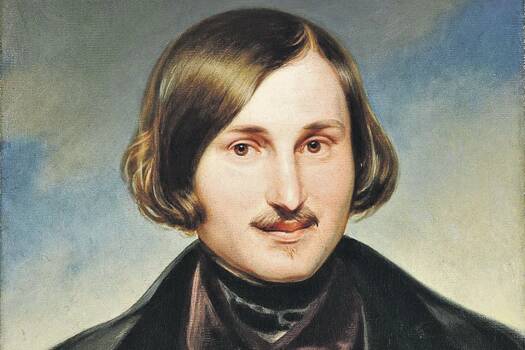 Nikolai Vasilyevich Gogol
Nikolai Gogol is a renowned representative of the classical writers of the nineteenth century, recognized for his works as a novelist, playwright, and literary critic. He is one of the most celebrated Russian writers worldwide.
Childhood and Adolescence
The future writer was born on March 20 (April 1), 1809, in Sorochintsy village of Poltava province located in the territory of present-day Ukraine. Nikolai's family traced their lineage back to the ancient Cossack family and considered themselves to be descendants of Ostap Gogol who was a military leader of the 17th century, colonel and hetman of the Right-bank Ukraine. Gogol's grandfather had the surname Yanovsky which was then inherited by Nikolai. When he entered the nobility, his surname was changed to Gogol-Yanovsky. However, the writer shortened it later and started to use the first part only.
Gogol spent his childhood in the family estate Vasilyevka of Mirgorodsky district in Poltava province. The places where the writer grew up would later be immortalized by him in his famous collections of works "Evenings on a Farm near Dikanka" and "Mirgorod". Nikolai's father, Vasily Afanasyevich, was a passionate theatre lover. Having retired as a collegiate assessor, he organized a home theatre and started composing plays for it. According to his contemporaries, Vasily Gogol-Yanovsky was a brilliant storyteller and had outstanding literary talent. Apparently, he passed along his interests and hobbies to his son and taught him how to master the word. For example, when playing with Nikolai, his father asked him to rhyme words. Already at the age of five, the boy wrote his first compositions.
Nikolai Gogol grew up in the outback. From early childhood, he could absorb colourful Ukrainian speech, folk legends and traditions — sometimes funny, and sometimes creepy. This atmosphere had a great influence on his literary works. Fantastic plots and bright and figurative language became the peculiarities of the writer's unique style.
When Gogol was 10 years old, he left his home and moved to the capital of Poltava province. At first, he took lessons from a private teacher and then entered Nezhin High School, where he studied from 1821 to 1828. Gogol did not excel as a student, as he was inattentive and disobedient, resulting in frequent punishment by flogging. The only thing that saved the boy from the dishonourable expulsion was his excellent memory which helped him to pass exams and move on to the next course. Teachers noted that the future classical writer was good only at drawing and the Russian Language. Gogol read a lot, showed interest in modern literature and had an excellent knowledge of Pushkin's and Zhukovsky's works.
In addition, while studying at school, Gogol became passionate about theatrical art. He set up a theatre and invited his friends to act in it. The future writer painted the scenery, collected props, staged performances and played on stage. An amateur production of Fonvizin's "Minor", in which the "director" himself played Mrs Prostakova, was a great success. Nikolai Gogol's friends seriously believed that he would become an actor and also noted his special talent as a comic storyteller. Sharp-tongued Gogol was able to make any audience laugh heartily, and even the school principal could not stop him.
Everything changed in 1825 when Gogol's father died. 16-year-old Nikolai suffered a profound loss. According to rumours, he even had suicidal thoughts. This death had a negative impact on both the state of mind of the future writer and the financial situation of the family. Gogol's mother was bad at housekeeping which forced the young man to take care of the family business. He had to make decisions about the property and even refused his share of the inheritance to be able to provide for his younger sisters.
Early Writing Career
Young Gogol tried himself as a writer when he was still at school. Together with his friends, he published a handwritten journal that regularly contained his own poems written in the spirit of romantic poetry which was popular at that time. Gogol tried his hand at various literary genres. He wrote dramatic works, stories, and historical novels.
In 1827, he finished his poem "Gantz Küchelgarten", which imitated the style of popular romantic idylls. Gogol even published this work under the pseudonym V. Alov two years later. However, negative reviews forced the impulsive young author to buy out the entire print run and burn it.
Saint Petersburg
After finishing school in 1828, Gogol decided to move to the capital instead of returning to his estate in Poltava province. He was not yet aware of the disappointment that he would experience soon. His dreams of a quick and brilliant career crashed into reality. He had neither money nor public recognition. Nikolai tried to get a job as an actor in the theatre, but the acting skills his school friends admired so much did not impress sophisticated directors in the capital.
In 1829, Gogol began working as a minor official — first as a clerk and then as an assistant to the head of a division in one of the St. Petersburg departments. The job was intolerably boring, and Gogol did not succeed in it. Having worked for only a year and a half, Nikolai resigned as a collegiate registrar, which was the lowest rank according to the Table of Ranks. However, the impressions about this job helped observant Gogol to collect plenty of materials about the life of officials that he later used in his stories and novels.
Thus, by the end of the 1820s and the beginning of the 1830s, literature remained the young man's last hope. By this time he had made some acquaintances in the literary circles of St. Petersburg: Pyotr Pletnev, Anton Delvig, Orest Somov. He made friends with Vasily Zhukovsky, who then introduced his young friend to Aleksandr Pushkin.
Pyotr Pletnev, a remarkable Russian writer and critic, professor and rector of St. Petersburg University, who took part in the fate of many famous Russian writers, noticed Gogol's talent and decided to help the young author. In early 1831, Pletnev got Gogol a job as a teacher at Women's Patriotic Institute, and in 1834 — as an adjunct at the History Department of St. Petersburg University. Pyotr Pletnev facilitated Gogol's introduction to several noble families, and as a result, Nikolai provided private lessons to their children. The writer was no longer at risk of slipping into poverty, although he never got rich. The job at the University was not a good fit for Gogol, and he resigned from it shortly after starting.
Life Abroad
By the middle of the 1830s, Gogol's literary fame had become indisputable. In 1836, feeling worn out from literary work, the writer travelled abroad, where he spent approximately ten years, returning home periodically. Travelling through Europe, Nikolai Vasilyevich lived in Germany, Switzerland and France. And then he finally stopped in Rome — a city that became his second home. In Europe, Gogol filled the gaps of his poor school education: he got acquainted with culture and art, visited art galleries and read a lot. Gogol's time in Rome proved to be highly productive for his work. He wrote many of his famous works in this city, including "The Overcoat". When living abroad, the writer also worked on his main creation — "Dead Souls" novel, which he preferred to call a poem.
By the 1840s, Gogol's attitude to life had changed. He turned to religious mysticism. He often thought that his calling was to change the lives and mindsets of people living in Russia and to improve social mores. The writer perceived his literary work as a service to God. His works of that time were of an edifying and preaching nature, for example, his collection of journalistic materials "Selected Passages from Correspondence with Friends" (1847). Gogol was often dissatisfied with his works and sometimes destroyed them, as he did with the second volume of "Dead Souls".
Family and Private Life
Gogol's mother and younger sisters remained his only family until the end of his life. The writer never married. Gogol's surviving correspondence includes letters to women, and in letters to his mother, he occasionally mentioned falling in love. However, it appears that the writer's relationships with women were likely only platonic. Gogol had no children. Except for his books, he left no inheritance — no money or property.
Nikolai Gogol's Oeuvre
During his time around the well-respected people of St. Petersburg in the early 1830s, the future writer observed that the national character of his homeland, Malorossia, held a certain appeal for the society in the capital. This is how he had the idea for his first successful work — "Evenings on a Farm near Dikanka". Gogol took a considerable amount of time to gather the necessary materials before starting to write. He wrote to his mother and requested that she share any legends, folk tales, epics, or stories she had heard about the places where he grew up. A collection named "Stories Published by the Beekeeper Rudy Pank" made the young author famous. His contemporaries admired the colourful language, subtle humour and intricacies of fantasy and realism.
"Evenings on a Farm near Dikanka" was followed by a collection of articles, novels and short stories "Arabesques" and then "Mirgorod". His new books had a different tone: they featured less Ukrainian folklore and instead focused on history, as in "Taras Bulba", and depicted the simple life and inner world of characters with a sense of trepidation and melancholy, as in "The Old World Landowners". The nature of Gogol's mysticism also changed: the funny devilry of "Evenings on a Farm near Dikanka" was opposed by the gloomy demons of "Viy".
From 1834 to 1836, Gogol worked on his comedy "The Government Inspector". The satirical play was a huge success: the vices of Russian society were showcased in it with such power and truthfulness that they impressed everyone. The delight gave way to hatred from officials who had recognized themselves in the characters. During these years, the writer also worked on other dramas, for example, his play "Marriage".
In the second half of the 1830s and early 1840s, Gogol lived abroad. His most important work of this time is the poem "Dead Souls". The first volume of the poem was published in Russia in 1842. The idea of "Dead Souls" was similar to the one Dante had used in his Trilogy. It makes readers follow the main character from hell through purgatory to paradise — to rectification and redemption. The writer failed to achieve his goal: Gogol repeatedly destroyed manuscripts of his works if he believed they were not good enough. Only a few chapters of the second volume of "Dead Souls" have come down to us, and the author never started the third volume.
When working abroad, Gogol wrote "The Overcoat" — one of his most famous stories in the "Petersburg Tales" collection. It is a story about a minor official Akaky Akakievich Bashmachkin. It shows that behind funny puns and a ridiculous mystical ending, there is the pain, bitterness, helplessness over the lack of law, and loneliness of a "little man".
The series of "Petersburg Tales", which later became the eponymous collection, is not only linked by a common setting in the capital city (although some literary critics argue that St. Petersburg in these tales is depicted as a distinct character). All the tales are permeated with the mood of absurdity, a bizarre combination of fiction and everyday realism against which we can observe the catastrophic nature of life, the loss of human dignity and sometimes reason.
Death
In 1848, Gogol returned to his homeland and lived alternatively at his family estate with his mother and in Odessa, until he eventually settled in Moscow at the house of Count Aleksey Tolstoy on Nikitsky Boulevard. The writer's mental and physical health condition steadily deteriorated. However, it was the death of Aleskey Khomyakov's wife Ekaterina Mikhailovna, who was Gogol's close friend, that finally broke him. He stopped writing, lived in constant fear and started to fast strictly. In February 1852, in a fit of madness, Gogol burned all his manuscripts in one night. By this time, he had almost stopped eating and was getting weak steadily. His friends invited doctors to examine him and tried to feed and treat him by force, but their attempts failed.
Nikolai Gogol died on February 21, 1852. The cause of death has not yet been established. The hypotheses include a mental disorder (depression or schizophrenia) that forced Gogol to reject food, gastrointestinal diseases and even poisoning caused by incorrect treatment in the last days of the writer's life. There were rumours that Gogol had not died and had been buried alive in a state of lethargy. However, this fact has never been confirmed by documentary evidence. Nikolai Vasilyevich Gogol was buried at the Danilov Monastery's cemetery. In the 1930s, when the Monastery was closed and the necropolis was destroyed, the writer's remains were reburied at the Novodevichy cemetery.
Gogol's talent was widely recognised by his contemporaries and has continued to have an undeniable influence on the work of later generations. Nikolai Gogol was a master of scathing social satire and burlesque humour, subtle lyricism, meticulous realism and mysticism rooted in primitive folklore, lively and colourful depiction of everyday life, and solemn and pathetic morality. Gogol's underlying motivation was to serve humanity and bring about positive change in the world and in human nature.
Bibliography
Nikolai Gogol was not as prolific as many of his colleagues. He worked slowly, often rewrote his compositions and sometimes destroyed his manuscripts. Here are some of Nikolai Gogol's most famous works, along with the year of their first publication:
Novels and poems:
Evening on the Eve of Ivan Kupala (1830)
Viy (1835)
A Bewitched Place (1832)
Diary of a Madman (1835)
Ivan Fyodorovich Shponka and His Aunt (1832)
The Carriage (1836)
May Night, or the Drowned Maiden (1831)
Dead Souls (1842)
Nevsky Prospekt (1835)
The Nose (1836)
Nights at the Villa (1856)
The Night Before Christmas (1832)
The Tale of Captain Kopeykin (1842)
The Tale of How Ivan Ivanovich Quarreled with Ivan Nikiforovich (1834)
The Portrait (1835)
The Lost Letter (1831)
Rome (1842)
Sorochinskaya Fair (1831)
The Old World Landowners (1835)
A Terrible Vengeance (1832)
Terrible Hand (1856)
The Terrible Boar (1831)
Taras Bulba (1835)
The Overcoat (1842)
Plays:
Alfred (1856)
The Order of Vladimir, Third Class (1842)
Marriage (1842)
The Gamblers (1842)
The Lackey Room (1842)
The Fragment (Scenes from Social Life) (1842)
The Finale for the Government Inspector (1856)
The Government Inspector (1836)
Leaving the Theatre after the Presentation of a New Comedy (1842)
The Lawsuit (1842)
Morning of a Businessman (1836)
Stories:
The Prisoner (Bloody Bandurist) (1835)
The Success of the Embassy (1831)
The Teacher (1831)