Anton Pavlovich Chekhov 
3/7/2023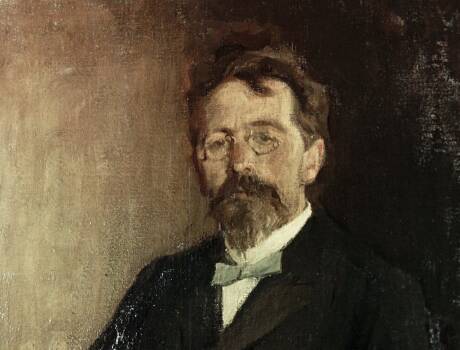 Anton Pavlovich Chekhov
Anton Chekhov, a writer, physician, publicist, philanthropist, and a classic of world drama, may have lived only 44 years, but his works influenced numerous generations of writers both in Russia and abroad. Chekhov's contributions to drama include the creation of a new genre and a departure from conventional ideas about what theatrical art should entail.
Anton Chekhov's Childhood and Youth
The future writer was born on January 17 (29), 1860, into a large merchant family residing in the southern Russian city of Taganrog. The head of the family, Pavel Egorovich Chekhov, sold groceries. Despite being a pious man, Pavel was known for his tough temper, and as a result, his five sons and daughter had to start working at a young age. The children's daily routine also involved singing in the church choir from as early as five in the morning, and in the evenings, they were responsible for guarding their father's shop.
When he was eight years old, Chekhov enrolled in the Taganrog gymnasium, which is now named after the writer. There, within the walls of one of the oldest educational institutions in the south of Russia, young Anton Chekhov began to write stories and even got the first of his numerous pseudonyms — Antosha Chekhonte. As a young student, Anton Chekhov developed a strong passion for literature and the stage. He started publishing a humorous magazine, took part in performances with his friends, and never missed a play at the Taganrog theatre.
In 1876, when Chekhov was only 16 years old, his father went bankrupt, sold his property and left with his family for Moscow. Anton stayed in Taganrog to complete his gymnasium education. He lived at his parents' former lodger place and earned his living by giving private lessons.
In 1879, Chekhov entered Moscow University. He chose the profession of a doctor and from 1882, as a student, he was already helping hospital doctors of the Chikin hospital in Voskresensk near Moscow (now Istra). After graduating from the university in 1884, Chekhov continued working in the same hospital. Then the young doctor moved to Zvenigorod, where he headed the local hospital for some time.
Anton Chekhov's Formation as a Writer
In 1880, Chekhov's first published story appeared in the satirical magazine "Strekoza" ("The Dragonfly"). The story was titled "A Letter to a Learned Neighbour". Chekhov was a prolific writer and wrote at a fast pace. This debut was followed by the publication of short humorous stories and feuilletons in various Moscow and St. Petersburg publications. In the early 1880s, Chekhov's miniatures were published under various pseudonyms (Antosha Chekhonte, a Man Without a Spleen, etc.), which was a characteristic feature of the genre.
Soon, Chekhov surpassed the genres of feuilleton, vaudeville, and humoresque. From the second half of the 1880s, the themes of his works became more serious as the author was increasingly occupied with the tragedy of everyday life. During this period, Chekhov's interest in portraying the everyday life of ordinary people began to develop. This led to the emergence of the special "eventlessness" of Chekhov's prose, which many critics would later comment on.
By the end of the 1880s, humorous miniatures gave way to short stories. "Steppe" and "A Dreary Story", published in solid magazines, brought Chekhov literary fame. The collection "At Dusk" (or "In the Twilight") published in 1887, earned Chekhov the Pushkin Prize from the Imperial St. Petersburg Academy of Sciences. The first serious dramatic work of Anton Chekhov — the play "Ivanov" — was written in the same year. The stories of the late 1880s combined an underlined dispassionate description of insignificant events of everyday life and a deep tragedy (the short story "Sleepy").
Literary Activity. Anton Chekhov's Oeuvre
In 1890 Chekhov went on a journey to Sakhalin, which lasted almost a year. The writer travelled through the whole of Siberia, lived on the island for several months, communicated a lot with its exiled inhabitants, conducted a population census, and then returned home by sea. According to Chekhov himself, the trip to Sakhalin had a profound impact on his worldview and creativity.
Upon returning from Sakhalin, Chekhov spent five years working on a book called "Sakhalin Island", which consisted of travel notes. The book conveyed the author's deep horror and compassion towards the lawlessness, humiliation, and poverty experienced by the convicts and their families. It was more than just a collection of descriptions and statistics. Stories about the lives of prisoners and scenes of cruel corporal punishment are interspersed in a book with detailed statistics on the diseases suffered by the population of the island, and ethnographic notes about the indigenous inhabitants of Sakhalin Ainu.
Chekhov had a fondness for dogs and kept two dachshunds named Brom Isaevich and Hina Markovna while he was living in Melikhovo. In 2012, a monument to dachshunds was erected in the local museum house.
The writer spent the 1890s in Moscow and the Melikhovo estate near Moscow. The two years Chekhov spent in Moscow were characterized by his interaction with many writers and artists. After moving to Melikhovo in 1892, Chekhov wrote some of his most famous stories and plays, including "The House with the Mezzanine", "The Man in the Case", and the story "Ward No. 6", as well as his play "The Seagull" and over 30 other works.
During this period, Chekhov's work increasingly demonstrated a fascination with a distinctive type of dramatic action, or rather, a form of inaction. Chekhov's plays deviated from the traditions of the dramatic genre, as they did not revolve around events that critically altered the lives of the characters, but rather focused on mundane matters. The plays of Chekhov are characterised by the everyday lives of the characters, trivial conversations, the gradual unfolding of events, and a profound lyricism that reveals the intricate and unresolved inner struggles and conflicts of his characters.
Frequently, Chekhov's protagonists appear to be "deaf" to each other as their dialogues are fragmented and disconnected, resulting in a bizarre semantic interplay that can be both comical and tragic. As a detached playwright, Chekhov leaves the interpretation of these remarks, as well as the comprehension of the characters' psychology and internal conflicts to the reader and viewer.
This structure of literary works became an innovation not only for Russian dramaturgy but also for the Russian theatre: a new conflict and its expressions required changes in the type of stage action and approach. It is no coincidence that the early critics of Chekhov reproached his plays for their lack of plot, excessive length, and weakness. Chekhov's new artistic language, lyricism and the special internal movement of his plays were interpreted on stage only with the arrival of Konstantin Stanislavski and Vladimir Nemirovich-Danchenko.
During his years in Melikhovo, Chekhov was not only involved in literary work but also in public service. He continued his private medical practice, dealt with the cholera outbreak as a sanitary inspector, participated in the activities of the zemstvo (a local government body), helped to build schools, and was engaged in charitable work. His personality was characterized by a coexistence of different roles and aspects, including that of a writer, doctor, public figure, and private person. Chekhov also managed to travel around Europe: he visited Austria, Italy, France and other countries.
Family and Private Life
Despite his difficult childhood and youth, Chekhov always felt unity with his large family. Over time, the brothers and sister of Anton Pavlovich Chekhov became his associates in the field of literature and art. The elder brother Alexander became known as a prose writer, publicist and memoirist. He rotated in Moscow literary circles, published in humour magazines in his youth, and did a lot to advance Anton Chekhov's literary career. Alexander's son was the famous actor and director Mikhail Aleksandrovich Chekhov. Another brother of the writer, the artist Nikolai Chekhov, illustrated Anton's humoresques in satirical magazines.
Ivan Pavlovich, the younger of the brothers, was a famous Russian pedagogue, a national teacher, and a great authority in the field of education. Mikhail Pavlovich Chekhov became famous as a writer, literary critic, editor, publisher of children's magazines, translator, first biographer and researcher of his famous brother's work. Chekhov's sister Maria Pavlovna outlived all her brothers. She created the Chekhov House Museum in Yalta and devoted many years to collecting, storing and studying the legacy of Anton Pavlovich.
The personal life of Anton Pavlovich Chekhov was not easy. In his youth, he had several romantic relationships, but none of them resulted in marriage. In 1898, the writer met Olga Leonardovna Knipper, an actress at the Moscow Art Theatre, where his plays were already being staged due to his growing fame as a playwright. Chekhov and Knipper tied the knot in 1901, but they lived separately for the most part — Olga remained in Moscow to perform on stage while Anton resided in Yalta. Chekhov occasionally visited Moscow to see his wife and, despite the distance, he expressed his love for her through numerous tender and humorous letters.
Later Years
In the late 1890s Chekhov, who was showing more and more symptoms of tuberculosis, bought a house in Yalta and moved to the sea. At his dacha in Yalta, which later became the Chekhov Writer's Museum at the initiative of his sister Maria, he wrote all of the major works of his later years, including the plays "Three Sisters" and "The Cherry Orchard".
In 1899, Anton Chekhov was granted the Order of St. Stanislav of the 3rd degree and was thus ennobled by the decree of Emperor Nicholas II. In 1900, he was appointed as an honorary academician in the category of fine literature of the Department of the Russian Language and Literature of the Academy of Sciences. In 1902, Chekhov joined Vladimir Korolenko in renouncing their honorary academician titles in protest against the tsarist decree that expelled Maxim Gorky from the academy.
Chekhov's Illness and Death
Apparently, Chekhov contracted tuberculosis in childhood or early adolescence. As a doctor, he diagnosed himself. The writer frequently experienced flare-ups of his illness, and starting from 1884, he began to suffer from recurrent bleeding from his right lung, which led to a steady decline in his health. His health was undermined by a difficult childhood, arduous travels through Siberia and Sakhalin, demanding medical work, and immense emotional strain.
Since the late 1890s, Chekhov's disease has progressed steadily. In 1904, the writer went to the German resort of Badenweiler to be treated for consumption. There, on the night of July 2 (15), 1904, Anton Pavlovich Chekhov died. According to the memoirs of his wife, before his death, the writer asked for a glass of champagne and sent for a doctor. In his presence, Chekhov confidently uttered his famous last words: "Ich sterbe" (German: "I'm dying"). The writer's body was transported to Moscow by train and buried at the Novodevichy cemetery in the presence of a large crowd.
Bibliography
The works of Anton Pavlovich Chekhov are recognized as classics of world literature and translated into hundreds of languages. Over more than 100 years his plays are still staged in theatres and his influence on drama and theatrical art is considered one of the most important of the 20th century. The writer's literary output included over 500 stories, novels, and plays, in addition to numerous feuilletons and humoresques. Let's list the most famous of them.
Stories:
The Death of a Government Clerk (1883)
Thick and Thin (1883)
Wedding with a General (1884)
The Chameleon (1884)
The Huntsman (1885)
A Living Chronology (1885)
The Intruder (1885)
The Cook's Wedding (1885)
A Horsey Name (1885)
In a Foreign Land (1885)
The Fish (1885)
Both are Better (1885)
Sergeant Prishibeyev (1885)
Rara avis (1886)
A Restless Guest (1886)
Vanka (1886)
Not Wanted (1886)
A Night in the Cemetery (1886)
Romance with Double-Bass (1886)
Misery (1886)
A Joke (1886)
Kashtanka (1887)
Shrove Tuesday (1887)
Sleepy (1887)
A Mystery (1887)
In Exile (1892)
The Grasshopper (1892)
After the Theatre (1892)
Neighbours (1892)
Terror (1892)
The Two Volodyas (1893)
A Woman's Kingdom (1894)
Rothschild's Violin (1894)
The Student (1894)
The Teacher of Literature (1894)
Anna on the Neck (1895)
The Helpmate (1895)
Murder (1895)
The House with the Mezzanine (1896)
At Home (1897)
In the Cart (1897)
The Darling (1898)
Ionych (1898)
Gooseberries (1898)
About Love (1898)
A Doctor's Visit (1898)
A Visit to Friends (1898)
The Man in the Case (1898)
The Lady with the Dog (1899)
At Christmas Time (1900)
The Bishop (1902)
Betrothed (1903)
Novellas:
Late-Blooming Flowers (1882)
The Shooting Party (1884)
Lights (1888)
Steppe (1888)
A Dreary Story (1889)
The Duel (1891)
Ward No. 6 (1892)
The Story of an Unknown Man (1893)
The Black Monk (1894)
Three Years (1895)
My Life (1896)
Peasants (1897)
In the Ravine (1899)
Plays:
Ivanov (1887)
The Bear (1888)
The Wood Demon (1889)
A Marriage Proposal (1889)
The Wedding (1889)
A Tragedian in Spite of Himself (1889)
The Festivities (1891)
The Seagull (1896)
Uncle Vanya (1896)
Three Sisters (1900)
The Cherry Orchard (1903)
Nonfiction, journalism:
From Siberia (1890)
Sakhalin Island (1893–1895)
Author's collections:
The Prank (1882) (not published)
The Tales of Melpomene (1884)
Motley Stories (1886)
In the Twilight (1887)
Innocent Speeches (1887)
Stories (1888)
Children (1889)
Gloomy People (1890)
Ward No. 6 (and other stories) (1893)
Novellas and Stories (1894)
Peasants and My life (1898)